Patio Covers – What Are They And Why To Use Them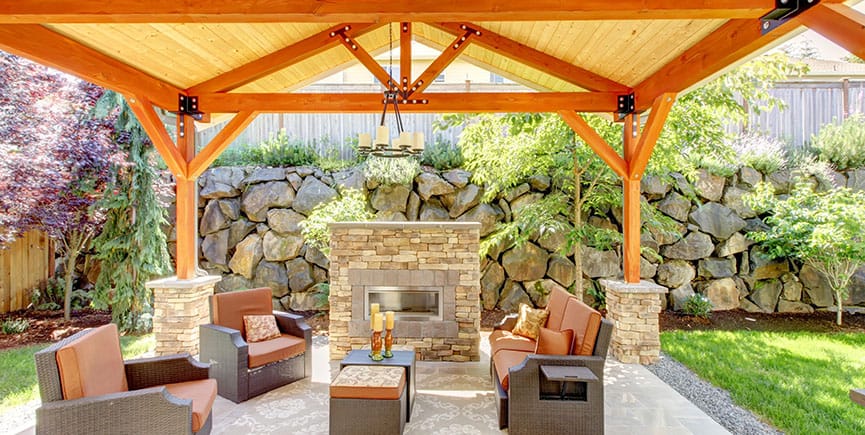 Patio Covers – What Are They And Why To Use Them
If you have a nice and comfortable patio in your house, then you should call your brick patio contractor or stone patio contractor to get a patio cover made and constructed. A patio cover is the newest addition is house construction trends.
What Are Patio Covers?
A patio is your extended outdoor area of the house where you can relax and read books or have a pleasant tea and coffee with friends. It is a small sitting area made of wood, concrete stone, bricks or other material. A patio covering is the covering of your patio area. Initially, patios used to be open spaces which looked good but were not able to shelter from rain, snow or hot sunlight. Now when you will get a patio constructed your stone patio contractor or brick patio contractor will strongly recommend getting a patio cover also made. A patio cover adds beauty and an aesthetic appeal to your house without putting a dent in your wallet. It comes in many designs and styles, is cost effective and serves a greater purpose for your house.
Why Go for Patio Covers?
Installing patio covers offers many advantages over not installing a patio cover. Below are top reasons why you should opt for a patio cover.
You can enjoy the summers relaxing in your covered patio area as you will not feel very hot. A patio cover will protect the patio from the hot rays of the sun and will decrease the temperature and heat inside the patio up to 8 degrees.
You will be able to enjoy the rain as you will not be washed away and soaked in rainfall when your patio will be covered.
A patio cover is a very low-cost affordable home addition and home renovation for your house. Generally, home additions and home renovations cost a lot of money, but a patio cover is a great way for adding a home improvement feature without spending a lot of money.
A patio cover is great for improving the curb appeal and aesthetic look of your house and you have various design and style options.
A patio cover adds value to your home and increases your selling price. Home buyers will prefer to purchase a house which has extra features such as a covered patio.
It will help to keep your house cool in summers and warm in winters.
You can also add climate control features such as fans, heaters, a small string of lights and lamps.
It will serve as a great entertainment area for guests where you can invite them and have small outdoor barbeque parties and lunches.
Your furniture has more chances of fading or rusting in an open patio in hot summers and winters but a patio cover will protect your furniture from spoiling.
You will enjoy the service of your patio all year round with your friends and family so call your stone patio contractor long island or brick patio contractor now to get a patio cover made.